1.19: Rose's Room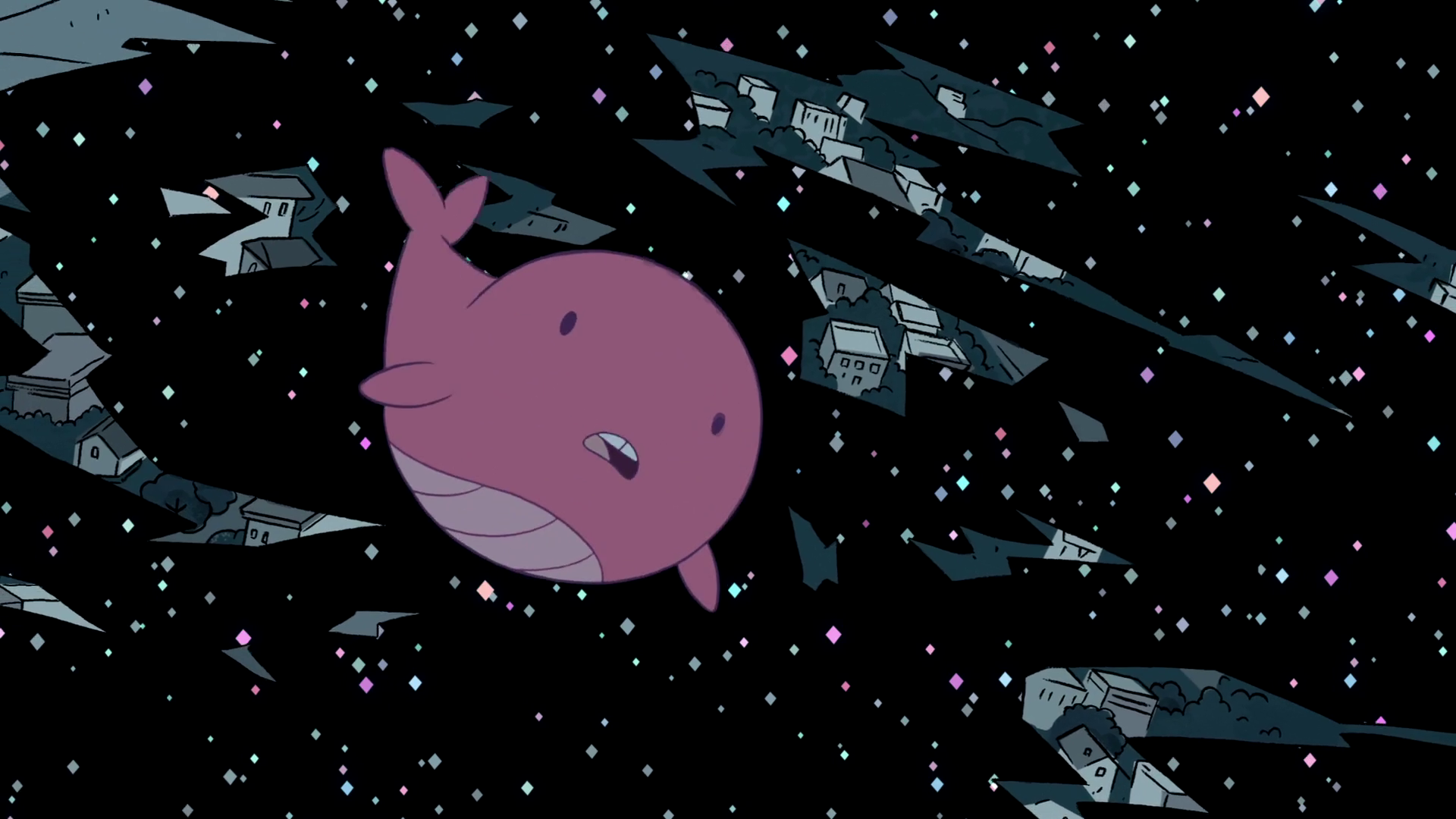 This episode taps into Adolescent angst in an intricately detailed portrayal from the start of the episode, as it looks at how Steven may not be entirely satisfied with the Gem's method of parenting may be a cause for disconnect for Steven, as they are often too busy to perform humdrum activities such as Golf with him. Specifically, Garnet is the one who tells him this, the most fatherly of the Gems, which is important to the episode's themes later on. In their absence, he becomes dangerously addicted to a golfing video game (one with a story apparently), and then appear to send mixed messages to him when they begin giving him their attention while he is playing it, when he doesn't want their attention. The usually kind Steven impulsively, and perhaps sporadically, lets out his frustrations towards them, wishing for a place where he can be alone. It is then that the door to his mother's room, which has been inaccessible since her death, opens at the surprise of the Gems.
Going against their attempted warnings, Steven runs into the room where he finds a pink, cloud filled room where all his wishes come true, bunk beds, whales, the ending of the video game, and an infinite supply of donuts that he can't eat because they are projections. Eventually he gets bored and wishes the room to let him out. Of course when he comes out and is seemingly back in Beach City, we can immediately tell that something isn't right. The Gems are gone, it is unusually quiet in town, and the final confirmation that he is in fact still inside the Room's projections is when the people, Lars, Sadie, and Connie are shown as unthinking zombie-like beings in a turn to horror for the episode, a genre which this series is able to do surprisingly effectively.
The one human who seems to act normal when Steven runs into him is Greg, the father figure in his life and the person in Beach City who he is most familiar with, which is probably why he seems the most normal in the projection. Though this could also be because the room is giving Steven what he wishes for, in this case a father figure to look up to. We have seen him so far in the series in multiple different ways, either as a lazy old man, a supportive father, a coward. This isn't to say that he is an inconsistency character, rather that this is how he is seen through Steven's viewpoint at different moments. This lack of consistency, other than the fact that he is a nice man, from Greg has caused Steven to try and imagine a version of him who is more of a figure to look up to, which he is given here offering introspective advice to Steven that the real Greg perhaps wouldn't be intelligent enough to provide. Indeed, Steven soon enough figures out that the whole thing is a projection and escapes from it, being relieved to be reunited with the Gems, the three of them go golfing to bring the story full circle. Greg's golf trousers incidentally, also fit Garnet, symbolising Steven's desire for such a father figure, and how Garnet seems to fulfil that role when Greg is away.
This episode served as yet another demonstration of the frequent foreshadowing of further details which I have spoken of before. Once again the fact that this episode only provided a miniscule amount of detail in introducing a new aspect of the world relating to Rose does cause it to feel like a teaser more than world building. Still, the episode as a whole did provide a dark look into Steven's psyche, analysing the disconnect that Steven feels in his life from the Gems and his own father, but done so in a subtle way. And it also provides an effective horror episode for the series.
1.20: Coach Steven
"What Magical place of Mysteries is this?" asks Steven at the beginning of the episode.
Hey we haven't expanded on that whole fusion idea since it was introduced in that one episode. Well this episode does just that by introducing this time the fusion between Amethyst and Garnet, Sugilite. And expanding upon the concept is what it does by demonstrating to us why the Gems don't do it all the time if it apparently makes them stronger. Pearl seems wary about the consequences of their fusion, which is our first clue as to how destructive this fusion is. We also see here the process of fusion itself, which we didn't see in Giant Woman as Steven was inside the giant bird. And the dance that we see unfortunately also helped to create the popular fan theory that fusion is a metaphor for sex, what with the gyrating hips of the two Gems, Pearl covering Steven's eyes as he looks on ambitiously at what she might describe as a "shameful display", and the filthy background music that plays during the dance. Of course, while the two may share similarities, both representing an intimate connection between two individuals which is apparently extremely pleasurable, the two are not completely analogous as many fans seem to think just to say that we're watching sex on a children's TV show.
The design and actions of Sugilite herself stand as an extreme contrast to Opal, whose design was pale and gentle, representing a peaceful character. Sugilite is, for one thing, bigger than her, much bigger. Her design once again is a combination of features found in the two Gems, the two shades of purple creating a much darker purple, their large lips combining to create a monstrous mouth, Amethyst's flowing hair and body shape mixed with Garnet's sunglasses and more controlled shape. The design by its own however looks monstrous, with sharp teeth and a dark colour scheme representing her extremity. Her voice is provided by Nicki Minaj, who manages to provide an intensity and energy to the character, combining Garnet's willingness to do her work with Amethyst's fun-loving nature. What Steven takes from this is the strength which she displays, providing him with a determination to become similarly strong, which is the actual plot of the episode that I haven't gotten to yet. So Steven becomes a coach to a gym which he gets Lars, Sadie, and Greg to become members of, but Pearl is disheartened by the fact that he seems to be looking up to Sugilite, partly because of the fact that as we saw before she doesn't seem to trust Sugilite, but mainly because she sees the lesson of strength that Steven is taking to be a poor one. He only seems to see strength in terms of the ability to lift heavy objects, physical strength. But Pearl believes more in a balance between physical strength and mental strength.
Hence, we get the song "Strong in the Real Way", which starts with Pearl displaying that Magno has quite the lovely singing voice over the vibrant piano based soundtrack that builds into the lead in for Steven's part on the song, which is placed against an electric guitar backing track. A major theme in the episode is of contrasting viewpoints on what qualifies as strength. In the song, "Strong in the Real Way" means to Pearl that Steven fails to understand  what true strength is (that balance which is more difficult to maintain due to the mental half), Steven meanwhile interprets it wrongly as a call to try even harder to pursue the physical strength which he seeks of himself, and the Gym members. The balance is one which Sugilite is unable to obtain as she is an unstable fusion guided primarily by arrogance stemming from her physical strength, but the contrasting personalities of the Gems inside her create an instability making it  impossible for her to become mentally strong. This is ultimately how she ends up getting defeated in the end. The episode concludes with a humorous use of the star wipe motif on multiple character's different reactions to seeing the giant Sugilite nearly crushing them.
This episode provides a strong expansion on the concept of fusion by looking at the destructive aspects of it, and featuring a fusion character who gets more screen time than Opal did. Perhaps more impressive is the way in which this episode handles it's theme of strength in a way which doesn't make it completely obvious to the viewer through exposition, instead allowing the actions to speak for it. Overall, this is a strong episode, quite appropriate for an episode about strength, displaying an expansion of the series' mythos and some decent moments of character-based humour in the Gym sections.
1.21: Joking Victim
I maybe haven't emphasised how I'm not particularly a fan of Lars. At this point in the series, his most recent appearances certainly weren't that bad at least. But here his presence serves to remind us why I and many fans consider this character so unlikeable. But I'm getting ahead of myself right now, that aspect of the episode comes a lot later. I will say right now though that what I like and dislike about this episode can be easily summed up in two words, Sadie and Lars. Bet you cant guess which is which.
So the premise of this episode is that Lars, apparently feeling unwell, is unable to go to work. Steven, being the kind soul that he is, can't bear to watch Sadie do all the work on her own, and volunteers to work at the Big Donut. Of course anyone except the characters can tell from the beginning that Lars is faking his injury, and it is especially cringe-worthy to see him exacerbate his feigned pain to avoid picking up soap, or when Sadie points out that she cleaned up the last five "Stevens", apparently Steven causes messes at this place that many times. So any way, it turns out employment at this shop is easier than in most places, as Steven is required only to watch a video tape, a device which both he and Sadie are only vaguely familiar with, this being the current decade and all. The tape features a funky, but apparently extremely long song by Mister Smiley describing the rules of the shop. I remembered this song, but rewatching the episode made he remember how funny Steven taking this very seriously is.
Anyway, while we have interacted with Lars quite a few ties throughout the series so far, this episode gives us our first real look into the life of Sadie. She is an amazingly humble person who is able to tolerate Lars, only making his attitude come across as more ungrateful. We learn of a story where she apparently  played a videogame with him, from which the two of them formed a special bond. It is also implied here that the two of them may have had se with each other one night. Certainly that is the implication of the scene, but it is left more to the interpretation of the viewer whether or not that was the case or if they really did just play videogames as she says, and her awkward reaction to Steven's questioning is simply because she associates that moments with a similar level of intimacy. What is certain is that whatever happened, she does certainly have feelings for Lars which extend beyond simple friendship, so it is natural she would feel disheartened when she learns the "shocking" truth that he is faking his injury to hang out with the cool kids. It's never brought up that Steven helped introduce him to these people, but let's not try to blame anyone else for this, this is all Lars.
So in the end, the two decide to get revenge on him by putting the spice that Steven had earlier on a donut. Most cartoons would probably end the episode there, but this isn't most cartoons. And so we see the aftermath in which Lars runs through the city in screaming pain from the spice, and the two of them realize that their prank went a bit too far. Considering my obvious preference for Sadie's character, you may think that I would be inclined to side with her in this situation, but her and Lars are brought on equal footing by the end of the episode when you realise that she may have a feeling of entitlement based on that one night they spent together as one could argue that a whole night of playing video games doesn't make you entitled to that person, or even if they had sex that doesn't necessarily mean they have to be together, at least in Lars' eyes. This doesn't change the fact that Lars still lied to get out of work and has a needlessly bitter attitude to her, but the wounds do seem to be patched by episode's end. Oh and Amethyst is there to deliver the classic "Well, I guess my work here is done/But you didn't do anything".
That final line emphasises how much this episode takes us into the more domestic side of the series, featuring  only one Gem character, and relatively no supernatural elements. This allows an episode which takes a look at the relationships between two of the side characters, conveying that the writers of the series seem to have a perk for introspective teenage relationship dramas, even if one of those characters is an unlikable shit bag, which des take quite a bit of enjoyment out of it. But while I was expecting to rate this episode lower, it's look and implications into the life of Sadie, it's analysis worthy use of moral dynamics, and of course the Big Donut song did help it to rise in my opinion. Oh and Steven produces some slick raps while serving coffee to Sadie so there's that too.
1.22: Steven and the Stevens
I only just realised that this episode is a remake of the pilot episode. It carries the same premise, Steven obtaining a magical device that can allow him to travel back in time, which he does to try and correct his mistakes and create a perfect timeline. So I shall compare this episode with the original version. The first major difference, and one which demonstrates how the series has developed since the beginning, is that whereas the device was given to Steven as a present from the Gems from one of their missions which he didn't go on back then, here he now regularly goes on missions with the Gems and finds the device among other miscellaneous objects in an ancient room. Whereas the Gems in the pilot episode were lacking in individual personalities, we now know the character well enough at this point in the series to know that it would make sense for Amethyst instead of Steven to be the one who ends up flooding the room and forcing them all to return to Beach City.
The major difference between this and the pilot however is how the time travel device works. In the pilot, it seemed to do something of a brain switch with Steven's previous self. Here however, the device appears to take him to his past, with the past version of himself still there for him to interact with. And it is here where the similarities between this and the pilot end. The episode instead follows Steven in his efforts to at first fix Greg's inability to attend the Beach-a-palooza festival in which they are meant to perform, and then getting his past selves together to form a band to perform there instead, which could already create so many problems that I don't think I could even list right now. This episode follows the oddly common trope of doppelgangers of the main character, the most obvious reference point being Gravity Falls' Double Dipper. These episodes normally follow the format that the doppelgangers end up waging a war against the original, which is exactly what happens in the episode, no doubt creating over a million paradoxes in the instant, so that isn't where the subversion comes from in this episode, which it probably should because the only reason that the other Stevens seem to rebel against the original is because they disagree with his musical direction.
Before that happens, at least we get a decent song out of this episode. As Steven describes it a tribute to the early days of Rock and Roll" featuring a decent surf rock vibe. Although I do get the impression that it was recorded before "Strong in the Real Way" due to the fact that Steven's voice normally grows lighter as the series progresses, but in this song his voice is noticeably deeper than usual. Of course this has nothing on the Musical masterpiece that the other  Stevens create later, "Steven is a big, fat, meanie zucchini", truly a work of modern poetry. Anyway, the subversion to the trope comes in the resolution to the conflict, in which after what looks like almost a hundred Stevens have been created, the original Steven realises that he has made an immense mistake, goes back to the original timeline to prevent himself from starting this in the first place. After this, all the other Stevens are erased, leaving only the original Steven, which is unequivocally dark when you apply some thought to it's implications. Mainly the fact that, as the song points out, Steven watched himself die.
The final scene of the episode, in which the  Gems serve as his band, and he sings a revised version of the song from earlier, is one of my favourite moments in the series. Partly because of it's happiness, and the renewed lyrics emphasising Steven's love for his family as opposed to having to rely on himself all the time. But also because of how it still reminds the audience of the dark resolution to the story, a resolution so good that I originally thought I was going to give this episode a full rating based simply on that, but the fact that we had to rely on a contrived conflict created by an incredibly stupid decision by the main character in order to reach that conclusion take down some of the quality of the episode. It is still an interesting episode however, an example of the journey of unexpectedness that I have encountered upon revisiting these early episodes, speaking of which….
1.23: Monster Buddies
Skipping ahead a bit, some of you may be aware of the sequel to this episode Monster Reunion. When I watched that episode, I must admit I was caught a bit off guard by the premise, because I had actually forgotten about this episode, it had been so long since this episode. I did vaguely start to remember an episode in which Steven befriended a monster as the episode went on, but this was still an episode that had largely slipped from my memory, which normally wouldn't say good things about it, throughout this retrospective I have certainly found myself becoming a bit more cynical towards episodes that I used to think were five-star worthy after all. So I was caught off guard when I rewatched the episode and found that it was really good, as in really good. I also forgot that it is the episode which features the "No! Me Torta!!" line.
One thing which particularly makes this episode stand out is that it is the first one to give us a truly in-depth look into the monsters of the series, who have previously only been portrayed as nothing more than that-monsters, simple plot devices for the Gems to fight with no real depth or mythos to them. Of course, with the rest of the series having such an in-depth mythos, it should have been apparent that there was more to the monsters than we initially thought. That is exemplified in this episode when Steven, while the Gems are away, accidentally pops one of the bubbles containing the monster gems. Incidentally, observant viewers will note that the monsters have a similar physiology to the Gems. The monster which comes out, initially trying to attack Steven, displays less violent tendencies when Steven seems to show it kindness, represented by the potato chips he gives it throughout the episode. When he presents this finding towards the Gems they initially protest, apparently wishing not to know more and just keep the beings at bay. That is except for Garnet who seems more willing to go along with Steven experimenting with his new discovery.
The domestication process is slow but seems to be effective, with Steven even suggesting that the creature's acid spit can help them in their missions. While it seems to go well at first, it does seem that he creature isn't completely under control. When it sees Garnet's gauntlets it begins to go frantic, beginning a climax which is particularly effective because the bond that Steven has built with the creature has been engaging due to the threat engaged from the Gem's efforts to stop it, which is why this bond which follows a similar development to that seen in Steven's Lion is more effective. Inevitably, the creature dies trying to save Steven, or is put into hibernation to regenerate their form. It is here that we are told the reason Garnet was willing to accept his kindness to the creature was because his mother tried to do similar things but could never quite succeed. This adds a new layer of character development to the episode in how his bond with the creature also represents his determination to try and become his mother's successor. His hope is not lost when it turns out he is able to form a bubble around the Gem and send it back to the chamber, along with a bag of chips to show his bond with it, and perhaps as a reminder to revisit it later on.
This episode manages to develop the series in so many ways, developing a strong emotional connection  between Steven and the new character. The willingness of the Gems, particularly Pearl, to simply get rid of the creature also displays that the Gems may have a darker side to their missions, which is built upon further a few episodes later. As I said before, I had actually forgotten this episode until it's sequel turned up much later, and rewatching with the knowledge of what it eventually leads to does seem to improve the episode's quality in some way, as it becomes more enjoyable to notice the foreshadowing details hidden in the episode, and to see how much the monster concept would be expanded upon from this starting point.
1.24: An Indirect Kiss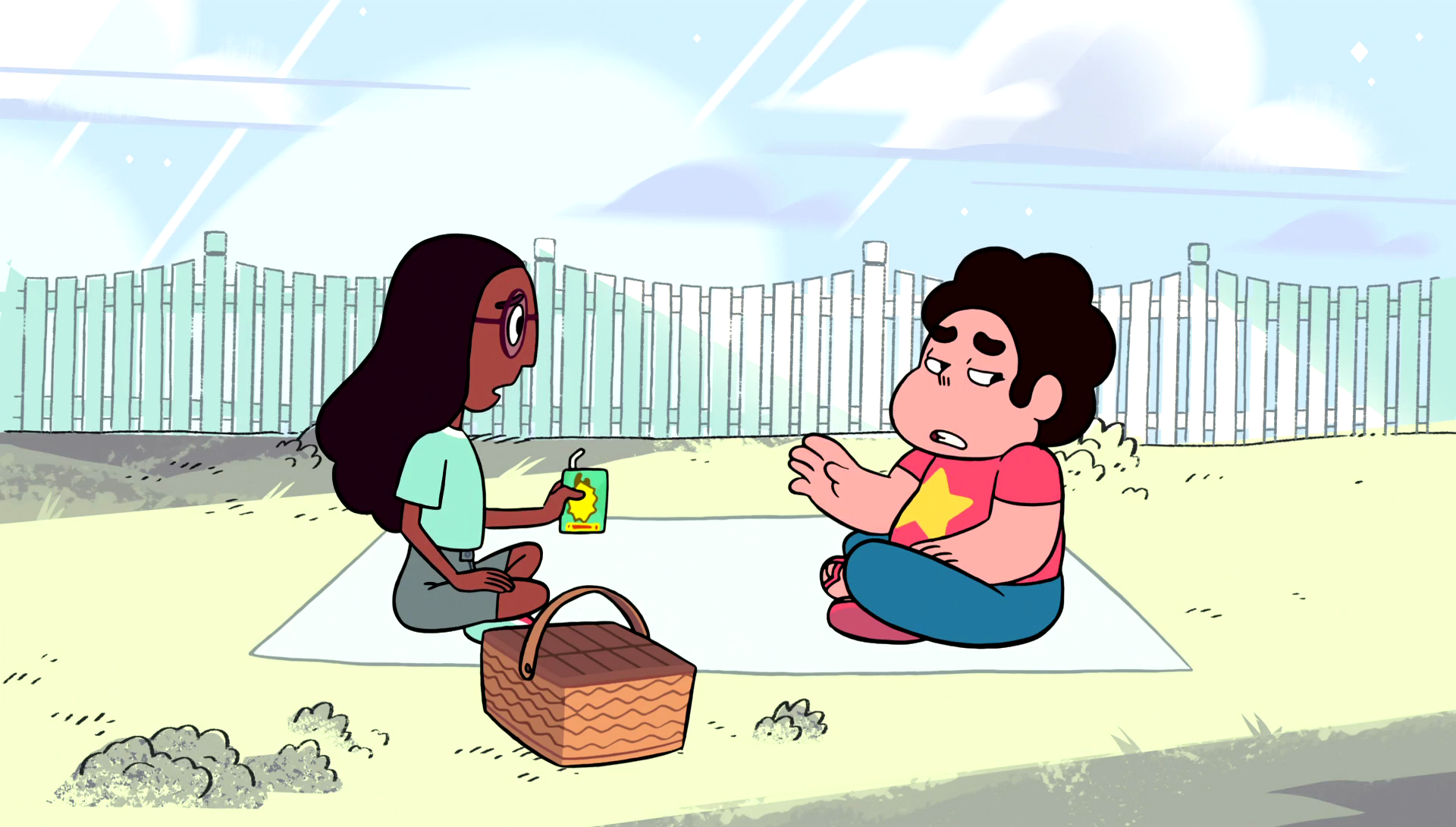 Now will you look at that title? And then look at the fact that the bedrock of this episode revolves around Steven and Connie sharing a picnic atop the hill. And then don't notice that because before I talk about the implied ship that the series writers have between the two characters, the real meat of the episode is in finding out what leads up to that title and it's meaning within the episode. To start out with, we see Steven and Connie sharing a picnic together but Steven's face is morose, indicating to Connie and the audience that something has happened to upset him, something relating to the fence on the hill. So Steven tells the story of what happened wherein we learn that Amethyst accidentally fell off the top of the hill. Surviving the fall but landing on some sharp rocks, damaging her Gem in the process. This incident inspired the creation of the fence, but that isn't the reason that Steven is sad.
So having previously learned what happens when a Gem's body is damaged in Steven the Sword Fighter, here we learn what happens when their Gem is damaged, which is far more worrying to Garnet and Pearl as it means the threat of genuine death looms over Amethyst now, as conveyed through the deformities which rapidly develop in her body such as a wonky eye and then her speech going backwards. While this aspect is occasionally played for laughs throughout the episode, the audience is still kept in a sense of dread due to the real possibility that she can potentially die through the implication that this may be the cause for Steven's depression. To try and prevent this from happening, the Gems try to see if Steven has inherited his mother's ability to heal others with her tears, but Steven evidently can't quite force himself to cry. As such, they opt for the next best thing and go to an ancient chamber formerly belonging to Rose.
It is here that we see the characters provide a strong ensemble for the episode, in which subtle moments of character expansion are given to us. This is perhaps most evident in Pearl, who we haven't really seen acknowledge Rose so far in the series due to the latter being so rarely mentioned until this episode. This episode establishes through her nostalgia for the garden and her horror at the realisation that it has gone to ruin, and her internalized anger when the ever-so stoic Garnet punches a rock through a bush of thorns in order to move their progress, that Pearl put Rose on a pedestal, holding a greater respect for her than the other two. And it is here where we see the first implication in the series, that this respect she held for Rose may have extended to romantic feelings, which is expanded upon later on in the series. Steven meanwhile continues to pursue the ability to cry, ultimately to no avail. He believes that seeing the images of his deceased mother may be able to swell him with enough emotion to make him cry, but this does nothing as he doesn't hold the same connection to someone he never met that the others do. He realises this as Amethyst becomes increasingly unstable while he continuously forces himself to cry, admitting that all he wants is the opportunity to have met his mother. The episode observes Steven's desire to fulfil the legacy which his mother let behind, which is the entire motivation for his character throughout the series, something which helps this episode to stand out so much.
Ultimately, he is able to cry due to the tangible possibility that Amethyst could die, and his tear doesn't do anything. The fountain in the chamber does however weep instead, clearing the garden of the infesting thorns, and healing Amethyst's wound. When this happens, Steven at first thinks that his tears awoke the fountain, but he is then informed by Pearl that she and Garnet activated the fountain while they were away, and that he had no real part in the process. He translates this to her saying that he doesn't have any real powers and that the Gems want nothing more to do with him. He actually says that to Connie, emphasising exactly how important it is to Steven that he lives up to the expectations set out by his late mother. This ultimately brings us to Connie's role in the episode.
So why is the majority of the episode told in flashback, as it doesn't seem that it needed to  be. Well, the fact that it is a flashback being told to Connie, the audience surrogate of the series, helps to convey a connection between the episode and the audience, helping to build upon the central theme of the episode being Steven's desire to fulfil other's set out ideals for him. But for another thing, we quickly learn that her role in the episode was more than to simply expand this aspect of the character, but also to develop it. Earlier on in the episode the two made a deal in which Steven got to wear Connie's glasses in exchange for her to drink from his juice box. And at the episode's end she experiences a headache which she soon learns is the result of her eyes healing and her being able to see without her glasses. It turns out that the exchange of Steven's saliva from the straw of the juice box was able to heal her, revealing that Steven does in fact have healing powers, in his spit. This brings the episode to a close full circle as this is what the "kiss" of the title refers to (the fact that it is referred to as that does still strike a hint of shipping from the crew's part). Steven is suddenly overcome with joy to learn that he does in fact have the powers of his mother (although slight nit-pick, did we forget that he's already discovered powers beforehand, in fact in the previous episode he was able to contain a gem inside a bubble all by himself). Connie meanwhile is realistically wrought with concern, worried about how her parents will react to the fact that she no longer needs glasses. To overcome this, the final scene of the episode has her removing the rose-tinted lenses from the frames and continues to wear the frames.
This last moment is the scene where Connie truly becomes a part of Steven's world, disposing of her rose-tinted lenses, which is an everyday expression and a symbol of Rose the character, representing this as she no longer sees Steven as her sweet, kind friend, but as a real person who has altered her life in a significant way. The gravity of this scene alone earns this episode a deserved place as an all-time classic in the series canon. But in addition to the well-handled character development, the episode beforehand presented strong humour, an expansion of the series' mythos, and a very real threat to Steven's wellbeing. This added to the most in-depth examination of Steven's character we've seen so far, and development for Connie in a subtle piece of visual and symbolic storytelling, helps this episode to represent the oncoming development of the series into more than just an entertaining science-fiction cartoon.